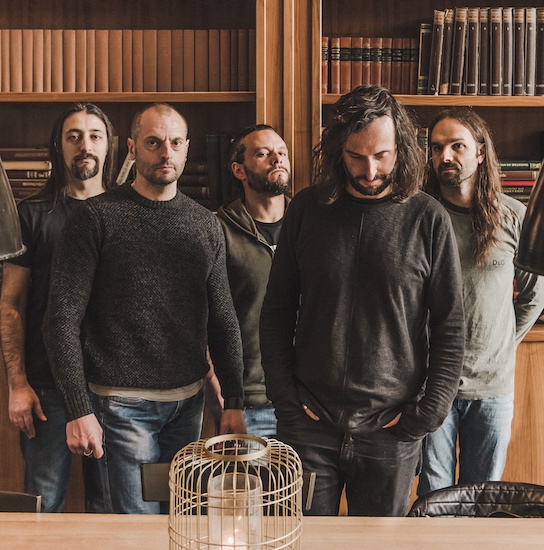 Photo by Caroline Trailter - Creative Commons Attribution 4.0
Started as a one man studio project in 2005 by multi-instrumentalist Giancarlo Erra and evolved then into a full band, Nosound inventively combines influences from '70s psychedelia, '80s/'90s ambient, soundtracks, contemporary alternative and post-rock.
The music is evocative and intense, with personal songwriting and using a variety of vintage and modern electronic instruments. Influences range from Pink Floyd to Brian Eno, from Radiohead to Sigur Ros, passing through rock and electronic music.
The early demo recordings made by Giancarlo were followed by the official debut album,
'Sol29'
, which was released in 2005 and quickly gained attention across Europe. This attention created demand for live shows and following the recruitment of the rest of the band Nosound embarked on a short tour. The live DVD, 'The World is Outside' captured this tour and was followed in 2007 by the limited edition (100 copies) live album, 'Slow, It Goes' and an exclusive EP 'Clouds'.
Three years on from debut album Sol29, Nosound returned in 2008 with the highly anticipated second album,
'Lightdark'
, initially given a limited release through the Burning Shed label. Recorded in Italy, England and the US throughout 2006 and 2007, 'Lightdark' develops further the promise of their debut album and exhibits a stronger group identity, revealing a greater contrast between the atmospheric detail and the walls of sound created by the band on stage. The album features collaborations with singer Tim Bowness (No-Man) and Marianne DeChastelaine on cello. A remastered edition of Sol29, featuring tracks recorded during the original album sessions but not included on the album, was released in conjunction with Lightdark.
In July 2008 the band signed to the London based Kscope/Snapper record label. A new 2 CD edition of Lightdark was released on Kscope on September 15th 2008. The bonus disc features 4 tracks not on the original release and the video for 'Lightdark'. Deatiled info, bonus material, previews and downloads for Lightdark are available at
www.lightdark.net
official promo website. In 2009 the album won the italian Prog Awards as
Best Recording of 2008
.
The third album called
'A Sense Of Loss'
was released again on Kscope 26th October 2009, in a special deluxe format cd+dvd including the original album, plus stereo 24bit, 5.1 DTS and Dolby mixes, video, galleries and more extra contents. Following the album release the band played important festivals and major live events, among with its Wooden String Quartet already featured on the album. 'A Sense Of Loss' saw the band going more toward a more original and unique approach to music, going away from their early influences and away from classic rock sounds, using a real string quartet. More info, bonus material, previews and downloads are available from the official release promo website
www.asenseofloss.com
.
In 2009 the album wins the italian Prog Awards again as
Best Recording of 2009
, winning over major acts like Muse and Porcupine Tree.
In the meantime after two years out of print and a lot of requests for it, Nosound are coming back with a reissue of the acclaimed 2005 debut album
Sol29
. In the usual Kscope tradition this new release is expanded with an added video
dvd
featuring a brand new ten minutes video for title track Sol29, plus all the material appeared on early The World Is Outside dvd-r and the original 2005 album mixes. The audio cd is completely restored and analogue remastered, all packaged in deluxe super jewel case with external slipcase and revised/expanded graphics. This new
'Sol29 (Kscope 2010 expanded/remastered edition)'
(16th August 2010) again has an official release promo website
www.sol29.com
with several promo material, becoming the final release for all early Nosound material from the start to second album Lightdark.
The 2010 presented a band with a constantly growing fanbase, a few special successful live gigs and now complete discography available on Kscope...2011 started with other gigs, the work on a first new album
'The Northern Religion Of Things' (Kscope, 25th July 2011)
feauturing tracks from all the three studio albums completely revisited by Giancarlo Erra live in studio during rehearsal sessions for a gig. The end of 2011 saw two intimate
Nosound 'duo' gigs in the UK
promoting The Northern Religion Of Things and followed by recordings from these gigs released for free on the band's website. During
2012
Nosound performed a few more solo/duo gigs promoting also some tracks from the new album, and most of all worked in studio on the
new material
. In the process the band went through two member changes, as Gigi Zito (drums/vocals) and Paolo Martellacci (keyboards/vocals) left the band for personal and artistic reasons and to follow their own projects. Marco Berni joined on keyboards/vocals and Giulio Caneponi on drums. Soon after the band welcomed back Marianne DeChastelaine at cello and
Chris Maitland
(ex Porcupine Tree) as special guest on drums/vocals to work together and record the material for the new album.
On 26th November 2012 the band published an
exclusive limited EP
on Kscope containing three brand new tracks and some exclusive content, called
At The Pier
. A strictly limited worldwide edition featuring already Marianne DeChastelaine and Chris Maitland contributions, and presenting the new material and direction of Nosound as a band and as a project.
Early 2013 saw the band finishing work on the new studio album, called
Afterthoughts
and to be released worldwide on Kscope
6th May 2013
. Afterthoughts is released as a 2 disc set featuring the stereo mix of the album on
CD
plus a
DVD-A / DVD-V with 5.1 surround high resolution 24bit / 96kHz mixes
. For the first time for Nosound the album is be also released as
limited double vinyl 180gr
with download code. A special
pre-order campaign
for both releases includes an exclusive
limited bonus cd
containing the
instrumental
version of the album, and a limited run of 500 hand numbered/signed double vinyls with exclusive printed cloth bag.
The second part of year 2013 was spent preparing the
reissue
of Nosound's second album
Lightdark
, published for the first time as rigid digibook with 24 pages booklet, including
remastered
disc and for the first time
DVD-A / DVD-V with 5.1 surround high resolution 24bit / 48kHz mixes
. For the first time the album is be also released as
limited double white vinyl 180gr
with download code and a special litho print.
The band played a few shows in Europe during 2014, with the special highlight being the invite-only gig (24th September) at
Mount Teide Observatory
(2390m), in Tenerife (Spain), for
Starmus Festival
with famous artists and scientists like
Brian May
,
Rick Wakeman
,
Katerina Mina
,
Stephen Hawking
. The band decided to record in audio (stereo and surround) and video this unique event, for the first official live cd/dvd for Nosound. The work ended up making the live album cd/dvd-a/v
Teide 2390
, released on Kscope 13th of April
2015
, with loads of material about the band on stage and backstage.
The year
2015
started with the release of the live cd/dvd Teide 2390 and continued working in studio on the
new studio album
. Several and quite different tracks were written during 2014 and 2015, so a
first selection
composed the new album
Scintilla
released in
September 2016
. Important collaborations (
Vincent Cavanagh of Anathema
and italian singer
Andrea Chimenti
) and audiophile formats (
bluray, 180gr 45rpm vinyl
) underline the step up for Nosound in this album, and another departure from the early rock influences towards a more
artistic songs-driven
rock and post-rock.
2017
sees the band playing gigs with a new more rock/alternative live band formation, while working on new studio material for a new
studio album
to be released in
2018
. Nosound also
signed with AMF Publishing (Kobalt)
of
Andy Farrow
, a stepping stone that will greatly help shaping new album and tour plans for the future.
2018
sees the band finishing and publishing the new studio album
Allow Yourself
in September, and
reissuing
in the meantime their whole
back catalogue remastered
and with
additional unreleased tracks
from the same sessions, and preparing the new
live
set to promote the new album. Some big live shows helped shaping the live side of the band.
2019
started with the new rhythm section playing more
gigs
and evolving the live show into an even more dynamic one, a new sound that became part of our live during some
important
festivals
later the same year, that also saw some work on
new studio album
.
2020 & 2021
have been the years the whole World will remember for some time. We decided to not take the route of online streaming gigs, we're waiting to reschedule the gigs we had to cancel, and in the meantime we're finishing the work on the
new album
:-)
Giancarlo Erra (vocals,guitars,keyboards)
Paolo Vigliarolo (electric and acoustic guitars)
Marco Berni (keyboards,vocals)
Orazio Fabbri* (bass)
Daniele Michelacci (drums, percussions)
Marianne DeChastelaine (guest cello on 'Lightdark', 'At The Pier', 'Afterthoughts', 'Scintilla')
Past members
: Ciro Iavarone (drums), Alessandro Luci (bass), Giulio Caneponi (drums), Chris Maitland (drums), Paolo Martellacci (keyboards/vocals), Gigi Zito (drums/vocals), Gabriele Savini (guitars), Mario Damico (drums)
* Photo by Roberto Scorta
** Photo by Caroline Traitler